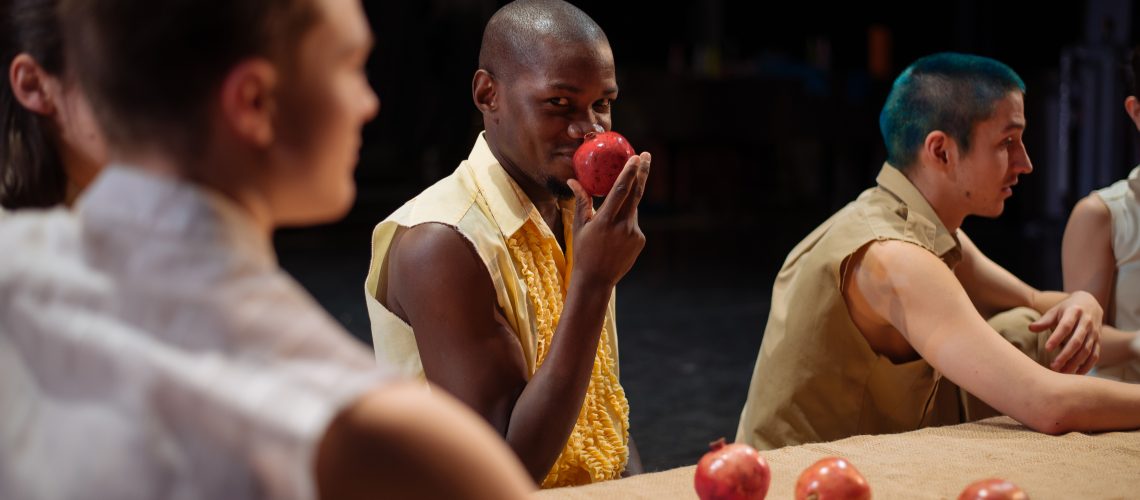 CIUT 89.5 FM
Airing Date: 9:00 am EST, February 27, 2019
Co-Hosted By: Nicole Hamilton and Shawn Byfield
Turn Out Radio is Produced By: Nicole Hamilton and Malgorzata Nowacka
Guests:
Shannon Litzenberger
With roots in rural Saskatchewan, Shannon Litzenberger is Toronto-based dancer, choreographer, creative facilitator, arts consultant and advocate. Since graduating from Ryerson University's BFA program in dance performance in 2001, she has collaborated with some of Canada's leading artists including Marie-Josée Chartier, Susie Burpee, Michael Greyeyes, Lorna Crozier, Christopher Dewdney, David Earle, DA Hoskins, Noah Richler, Heidi Strauss, Darryl Tracy, and David Pressault. From 2001-2008, she was the Artistic Director of the Integrated Dance Artists Collective (IDAC) – a Toronto-based group mandated to support the development of young professional artists through engagement in creative processes with Canada's leading choreographers. Shannon also holds an MA in dance from York University where she undertook research on the topic of mentorship as a means of facilitating career transition and creative development.
Hailey Lewis
Hailey Lewis grew up in Burlington, Ontario where she trained in dance for 15 years at Burlington Dance Company, as well as performing in Burlington Student Theatre's Performing Arts Camp summer shows. Hailey is a graduate of the Sheridan College Musical Theatre degree program and two-time Triple Threat Award recipient. Hailey's credits include: Michael in Mary Poppins (YPT), Ugly Duckling in Shrek: The Musical (The Globe Theatre), Lil Inez in Hairspray (Drayton), Jan in Grease (Wintergarden Theatre/ Irregular Entertainment), Sousatzka (Elgin Theatre/ Teatro Proscenium Ltd.), Tiff in Prom Queen (Segal Centre), We Are Canadian, Soul of the Island (Charlottetown Festival), Ensemble roles in In the Heights, Legally Blonde, Sweet Charity and Sunday in the Park with George (Theatre Sheridan), Zombies movie (Disney Channel) and American Gods Season 2- select episode (Fremantle). Up next for Hailey, will be performing in Mamma Mia! at the Grand Theatre in London, Ontario and performing in Anne of Green Gables, Mamma Mia! and Kronborg at the Charlottetown Festival this summer. Hailey is always thankful to her agency, friends and most importantly her family for encouraging her to reach for the stars!
Peter Kelly
Born in Guelph ON, Peter Kelly is a Toronto based dancer, choreographer, artistic director, teacher, stage manager and producer. Peter is a graduate of the Dance Performance Studies program at George Brown College and is now in his fourth season as a company dancer with Toronto Dance Theatre (TDT). Beyond TDT, Peter has worked with Summerworks Performance Festival as the Patron Services Coordinator, with Dance Ontario as the Provincial Networks Coordinator, and is currently the Artistic Director of New Blue Emerging Dance. Under the banner of Suede & Company, Peter explores/creates interdisciplinary works that aim to tackle barriers associated with sexual identity and queer culture
Gadget: Yogitoes Skidless Premium Mat Size Yoga Towel
Turn Out Radio is not in any way endorsed to promote our "Gadget" featured products. We feature them because we think they are awesome or interesting.
* Photo: Toronto Dance Theatre – Persefony Songs
Click here to listen live on Wednesdays 2:00pm EST on www.ciut.fm