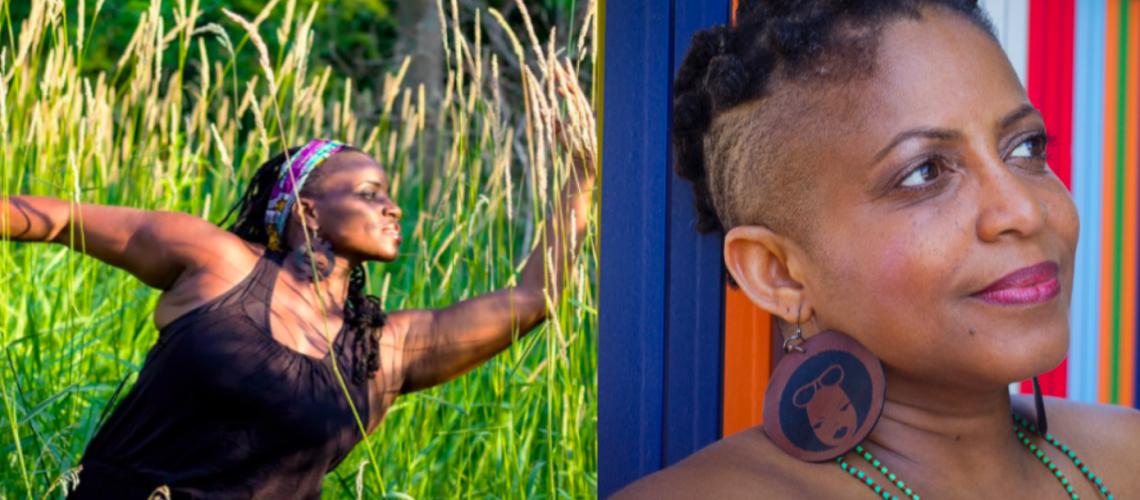 Live on CIUT 89.5 FM
Airing Date: July 29 2020
Hosted By: Nicole Hamilton
Featured Guests: Charmaine Headley and Debbie Nicholls-Skerritt
About Charmaine Headley:
As Co-Founding Artistic Director of COBA, Collective of Black Artists, Charmaine Headley is a champion of Africanist dance. Through her work as an artist, choreographer, teacher and mentor she advocates for the recognition and inclusion of the contributions of ethno-cultural dance practices in Canadian dance history and culture today. Headley pushes for a broadened societal appreciation of these art forms and advocates for reflexivity within curricula.
On leave from her PHD Studies at OISE, University of Toronto, Headley's focus is on the contribution of Black Dance on the concert stage to Canadian Dance History. A graduate of the School of Toronto Dance Theatre and a strong believer in the healing power of dance, she holds an honours diploma in Gerontology/ Activation Coordination and has created a movement-based senior's program for her Master's thesis at York University. Headley implemented and ran an intergenerational program in collaboration with Malvern Family Centre and COBA, where seniors and elementary students in the Malvern area were brought together to explore and share their story through dance.
More recently Headley utilizes her artform and creativity to address wellness. Her programming integrates movement, as well as drawing from the folk character Anansi to create and develop personal stories/narratives through fun and laughter while addressing mental and emotional challenges; building team and workplace relations and connectivity; increasing and/or tapping into latent artistic expressions that others may shy away; empowering and building confidence of youth and adults around identity, purpose, advocacy and navigating life in the diaspora.
Mother of one, Trini-Bajan by birth and culture, Headley's 30 plus year career started in Barbados on scholarship at the School of Barbados Dance Theatre. She went on to dance with the Barbados Dance Theatre Company for four years before moving to Canada to further her studies at the School of Toronto Dance Theatre. After graduating Headley was a guest with both the Gina Lori Riley Dance Company and the Danny Grossman Dance Company; she was a member of Usafiri Dance & Drum Ensemble, Mei'rim Dance Company and the OMO Dance Company.
Headley uses her choreographic voice to address socio-political and cultural inequity. One of her mottos is "Our stories move me." This is her impetus in her choreographic work as well as her teachings. She draws on the traditions of Africanist forms, both physically and metaphorically, to speak in a contemporary voice. Nominated for the Ontario Arts Council's Premiere Award for Excellence in the Arts (2017), and Named one of the 100 Accomplished Black Canadian Women of 2018, Headley's works to date include MEME: #OurLivesMatter (2017); Meme: #IdentityFaithHope (2016); LEGACY (2013); UNFINISHED SIN…4 ME (a tribute to a creative soul who was killed senselessly); BEFORE MADNESS (1993): REBIRTH in (1994); BUSH BATH (1997); JUSTIFYE: A SOLO FOR FIVE (2000); INSPIRIT (2001): WHAZZUP (2004), PASSAGE (2009), LEGACY (2011). She was commissioned to create a work, PORTAGE, for the Winnipeg-base company, Nafro Dance in October 2011. Headley has worked with TDSB Co-op Dance program, TDSB Creates, the Halton District School Board and the Peel District School Board as a mentor and facilitator sharing the connection and richness of education through the arts.
About Debbie Nicholls-Skerritt:
Debbie is an Artist, Educator and a Wellness Professional specializing in Women's Wellness. Debbie began Dancing professionally over 20 years ago and has acted in numerous professional Theatre productions throughout the city. She is the Co-Creator of the empowerment workshop "Dance-Esteem" which is a workshop that inspires Women and Girls to cultivate the "Story of You"through Dance and Spoken Word.
Debbie is Creatrix of the of AfrikCore. AfrikCore is a movement class that "Awakens the Dancer Within" It incorporates breath work techniques infused with pilates/yoga that are designed to activate, strenghthen and release the pelvic floor and deep core muscles while cultivating the subtle nuances and textures of movement of the African and Caribbean Diaspora. Debbie also teaches African and Caribbean Dance in 2 of the GTA's finest Dance Schools.
Debbie has been the Director of the TDSB's Dance Coop for Secondary School Students for the past 6 years. As the Director of the Dance Coop, highschool students throughout the GTA come to experience a professional Dance experience for a 4 month period where Debbie facilitates and guides them into exploring social justice themes that speak to them. The students will build choreography that will ultimately be a production that tours middle schools in the GTA.
In spring of 2016, Debbie began the journey developing her choreography"WOMB(WHOM)STORIES. This workshoped piece ,on professional Dancers, has been developed to give voice to the journey of women entering into deep healing that Debbie believes in buried deep in a woman's womb.
As a Wellness Professional, Debbie has been a Registered Massage Therapist for nearly to 20 years,  and a Health Care Educator for over 10 years. She is also a Birth and Post Partum Doula Pilates Instuctor and Womb Wellness Advocate. She facilitates Intergenerational Women's Circles and Workshops and in Social Services agencies and schools througout the GTA.