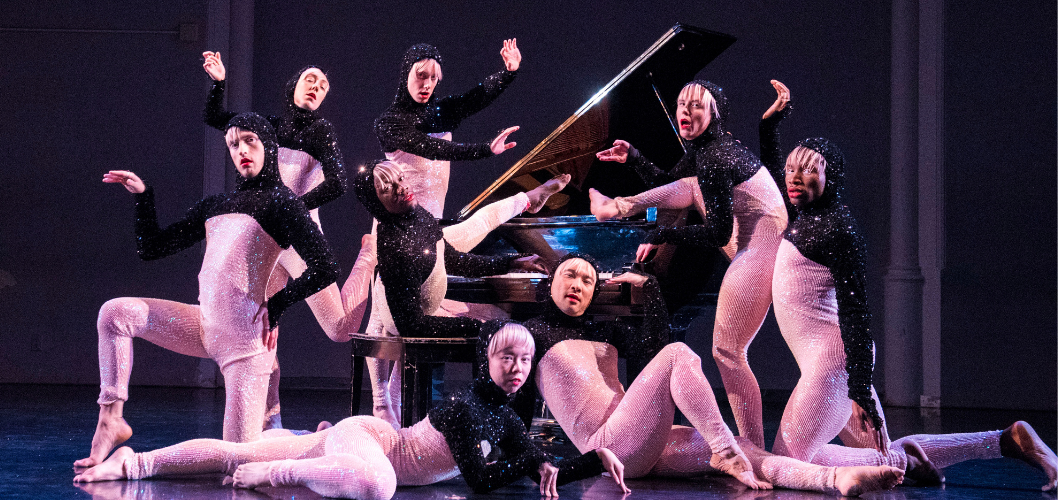 Airing Date: 9:00 a.m. EST, November 11, 2020
Hosted By: Nicole Inica Hamilton and Guest Host Jamie Hodgins
Featured Guests: Alyssa Martin and  June Lawrence
About Alyssa Martin:
Alyssa Martin is a choreographer, director and performance maker. Her absurd dance theatre works, which have been called "an empowered crotch shot to the face of the patriarchy" (The Dance Current), explore the human psyche from a place of radical and diligent play. Her direction blurs the lines between theatre, dance and musical theatre to offer unbridled romps through cheeky explosions of our consciousness.
Alyssa founded a small company, Rock Bottom Movement, in 2012 as the energetic home for her work and explorations alongside cherished collaborators. She has created new work in residence at art centres including The Banff Centre, Canadian Stage and The Stratford Festival Lab. She most recently premiered hollow mountain in Toronto and Montreal, and she is so excited to continue working on Bin Chicken with Toronto Dance Theatre. Her works have been shared in Canada and the US and have been recognized with Dora Mavor Moore Awards and The Canadian Stage Award for Direction. In addition to creating new dance work, Alyssa collaborates as a choreographer and movement director in the theatre, film, opera and musical theatre realms.
More about Rock Bottom Movement HERE. 
About Jamie Hodgins:
Originally from Ottawa, Ontario, Jamie has danced for MADONNA, ARIANA GRANDE, NICK JONAS, KIESZA, DEMI LOVATO, The JONAS BROTHERS, VITA CHAMBERS, SHILOH, and many more. On screen you can see Jamie as a featured dancer in Disney's CAMP ROCK 2. He was one of the top 5 male Triple Threat finalists on CBC's hit reality TV series, "TRIPLE SENSATION." Following the run of the TV show, Jamie was cast in the last professional Broadway production of HAIRSPRAY (Charlottetown Festival). He played the role of FENDER and was thrilled to share the stage with George Wendt (Norm from "Cheers"). His Film/Video credits include leading roles in the award winning History Television feature, "Death or Canada," TVO's "Explore My World," CBC's "Breakout!," and the Much Music Video Awards. Commercial appearances include "America's Best Dance Crew" (MUCHMUSIC)," Best Buy" (CTV/A CHANNEL), "Elections Canada" (MUCHMUSIC) and many more. Jamie has been adjudicating for over 10 years and is a member of the Professional Adjudicator Alliance – PAA. Last year, he took on the role of Creative Director and Lead Producer for the multi-million selling, chart topping pop vocal group, the MINI POP KIDS. He now choreographs, casts, and produces concert tours, albums, music videos, commercials etc. with some of the most talented kids across the country. Jamie has taught and booked performance contracts in HONG KONG, AUSTRALIA, SINGAPORE, MACAU, and parts of the US. Over the course of his career, Jamie has adjudicated more than 20,000 routines across the U.S. and Canada. He is an advocate for social change and strongly believes that fostering and supporting access to arts programs at a young age will spark love and acceptance for a better tomorrow.
INSTAGRAM: @Jamie_hodgins
About June Lawrence:
Mrs. June Lawrence is a graduate of York University with an Honours Degree in Fine Arts (Dance Major) and is a Full Member of the Canadian Dance Teachers' Association, Ballet and Stage Divisions. Mrs. Lawrence has served on the Ballet, Stage and Executive Committees of the CDTA in addition to her role as Ballet and Stage Examiner. She is also proud to be a member of The Canadian Dance Masters Association.
Mrs. Lawrence owns and operates a successful dance studio in the Mississauga community. (established 1981) Her role as Director, dance educator and teacher has given June the opportunity to see firsthand the benefits of Dance in a child's life. She is proud her studio is a member of I.D.E.A. (International Dance Entrepreneurs Association). Founded by Rhee Gold, the organization "promotes all that is good in dance education."
More about June Lawrence School of Dance HERE. 
Featured Photo by Ömer Yükseker of TDT Company in 'Bin Chicken'.