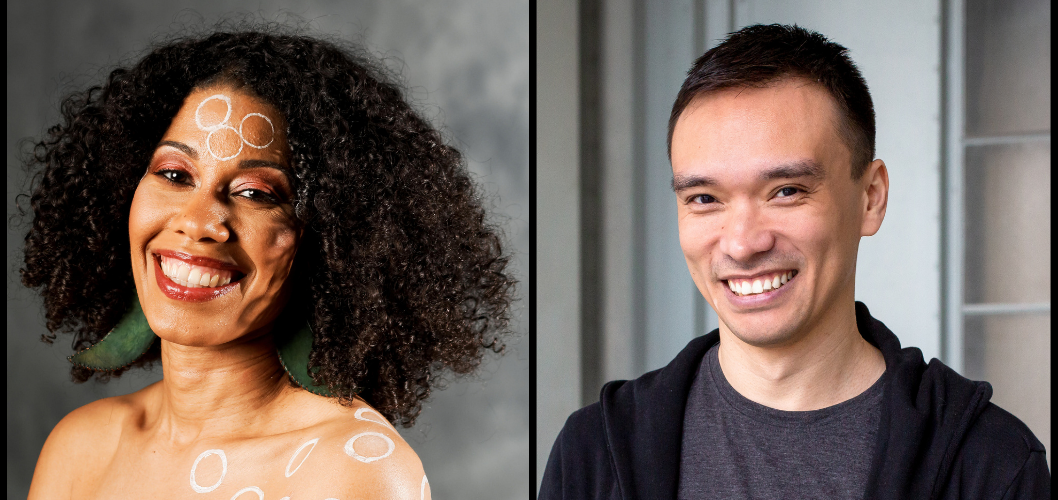 Live on CIUT 89.5 FM
Airing Date: April 14, 2021
Hosted By: Nicole Inica Hamilton
Featured Guest(s) : Lua Shayenne and Michael Caldwell
This episode is presented in partnership with The Dance Current 
---
Lua Shayenne is a multi-disciplinary artist who, for over 10 years, has been weaving stories, through dance, song and word. Her art practice is embedded in her African roots and her Faith. Her goal is to "effect a spiritual conquest" by establishing a relation with the human hearts and create original, inspiring and relevant art.
A 2016/17/18 K.M. Hunter Dance award nominee and a recipient of the 2013 BMO seeds Fund Award for Artists working in community, Lua proudly tours with Lars Jan's (NYC/LA) HOLOSCENES (Toronto/ Florida/ Miami/ New York/ London,UK/ Abu Dhabi/ Australia tours), a multidisciplinary water installation on climate change.
In the midst of the Covid-19 pandemic, Lua was featured in Fall for Dance North, performed at Dusk Dances/CanadianStage in High Park, JAMII's eclectic programming including SEVEN, Esie Mensah Creations' New film project and co-choreographed for National Ballet School's Sharing Dance.
Lua is the creator and interpreter of the dance theatre children series titled, Tales and Dances Around the Baobab. The fourth tale of the series, being developed under the series, is YASSAMA and The Beaded Calabash, with support from the Wee Festival and le Théâtre Français de Toronto ( May 2022 premiere).
As the artistic director of Lua Shayenne Dance Company (LSDC), Lua commissioned, produced and danced in DORA nominated KIRA, The Path | La Voie which premiered at the Luminato Festival and toured in Ontario, to rave reviews. She is also creating two works for LSDC: WAVES | VAGUES and FRONTIERS | FRONTIÈRES.
Lua is also an educator and community builder. She teaches at the Ryerson University's dance program and brings African dance, music, storytelling and culture to grassroots organizations and schools all over Canada and Europe.
IG: @luashayenne and @luashayennedancecompany
About Michael Caldwell:
Michael Caldwell is a choreographer, performer, curator, director, producer, and arts advocate, based in Toronto, Canada.
Garnering critical acclaim, his choreography has been commissioned/presented throughout Canada at major festivals, in traditional venues and in site-responsive and community-engaged contexts. Caldwell's most recent choreographic work responds to the 'site' in as many ways as can be conceived, and subverts traditional modes of viewing. He will premiere a new web-based movement work online in 2021, in addition to a large-scale performance/sound work in Toronto's Year of Public Art in 2022. Caldwell is a two-time K.M. Hunter Charitable Foundation Artist Award finalist.
An 'intense dynamo on stage' (Scene4) with 'exceptional interpretive skills' (Globe & Mail), Caldwell has performed/collaborated with over 50 of Canada's esteemed performance creators/companies, and has worked internationally with Antony Hamilton (Australia), Tomeo Vergés (France), and Sacha Steenks (Netherlands). He has performed across North America, Europe, Asia, and Australia. His performances have earned him two (2) Dora Mavor Moore Awards for outstanding performance in dance.
Currently, Caldwell serves as Executive Producer for Fall for Dance North, an annual large-scale international dance festival in Toronto, bringing valuable insight into diverse dance forms/styles in a local, national, and international context, primarily overseeing the festival's mainstage programming, and now-the festival's digital online content. Additionally, he serves as Associate Artistic Director for Festival of Dance Annapolis Royal, a dance festival in rural Nova Scotia, programming dance on the stage, in the studio, and on the street, which engages directly with this unique arts community.
He has previously served as a Guest Curator and Festival Producer for Dusk Dances, and also for Older & Reckless. In addition, he acts as a consultant with various arts organizations and as a mentor to many emerging artists/curators in the Toronto arts community.
With a bachelor's degree in film/art history from Syracuse University in upstate New York, and professional dance training at The School of Toronto Dance Theatre, Caldwell now sits on the board of directors at The Can Dance Network and the Dancer Transition Resource Centre.
IG: @mahkemahke