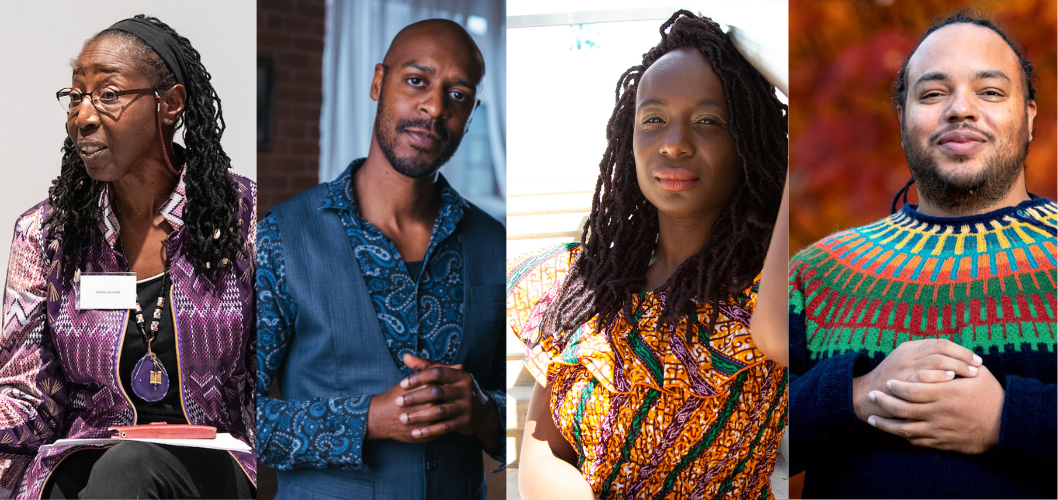 On this episode, Turn Out Radio and dance Immersion have partnered to explore critical considerations when codifying dances of the African Diaspora.
About Vivine Scarlett:
Vivine is an administrator and choreographer whose artistic goals and aspirations  are rooted in the love of dance. She is Founder and Executive Director for  dance Immersion, an organization that supports dancers and dances of African  ancestry with a number of diverse programs. Vivine's contributions to the field of  dance are generated from an energy that has fuelled her direction leading her on a  journey for over 38 years of giving and serving through the arts. Drawn to all kinds  of dance expressions and movement, Ms. Scarlett's passion has manifested many  experiences that have served Canadian artists of African descent with opportunities  that have laid a foundation for continued growth and representation. 
As former Artistic Director and performing member of Usafiri Dance & Drum  Ensemble, Vivine created and presented works in both traditional influenced African  and contemporary African dance styles. Over her career, Vivine has been the recipient of many awards, some of which include: the Muriel Sherrin Award, the Dance  Ontario Lifetime Achievement Award, Planet Africa Heritage Award, and a Dora Mavor  Moore award for her choreographic endeavours in "The Adventures of a Black Girl in  Search of God".  
Her efforts to connect international Blacks in dance to Canada has resulted in dance  Immersion hosting the prestigious International Association of Blacks in Dance (IABD)  Conference & Festival twice and is scheduled to co-host this event again in January  2023. Relationships in the UK have resulted in partnerships assisting to organize two  Re:generations conferences which included the participation of Canadian artists.  International connections have also included bringing two youth companies to perform  in Ghana West Africa along with facilitating a Canadian contingency of artists to  participate in the 2019 Panafest Festival, BEYOND 400 YEARS: REACHING  ACROSS CONTINENTS INTO THE FUTURE in Cape Coast, Ghana .  Vivine continues her journey, connecting opportunities with a variety of artistic communities around the world.
About Travis Knights:
Travis Knights is a Tap Dancer.
Born in Montreal, Canada, Travis was introduced to the rich oral tradition of Tap by his teacher Ethel Bruneau at age 10. He went on to travel the world spreading his love of rhythm across 4 continents, touring with Tap Dogs, Tapestry Dance Company, and the self-produced Tap Love Tour.  In 2019 Travis finished a two year community development residency at the Tranzac Club in Toronto hosting the Jazz United Jam, a weekly jazz jam session aimed at reconnecting live musicians with dancers.  He was the 2020 recipient of the Jaqueline Lemieux Prize for outstanding contribution to dance in Canada.  In 2021, in partnership with Anandam DanceTheatre, Travis debuted an original work 'Ephemeral Artifacts', a 4 channel video installation, with original sound design, lighting and sculptures of bells onto the historic building of Theatre Passe Muraille in Toronto.  In December 2021, in partnership with Dance Immersion, Travis, along with renowned Tap Dancer Lisa LaTouche, created and directed Legacy Series: Tap Dance Symposium which aimed to re-introduce Tap Dance to the local Black community in Toronto.  In 2022, Travis won a Dora Award for Outstanding Performance and became a Slaight Family Music Associate at Soulpepper.  He currently lives in Brampton, Ontario and hosts The Tap Love Tour Podcast, available on spotify, soundcloud and apple podcasts, (make sure to subscribe) featuring interviews of a myriad of inspiring tap dance artists.
About Zahra Harriet Badua:
Zahra Harriet Badua is a Ghanaian dancer/teacher/choreographer originally from Montreal, Quebec. Her passion for dance started at a very young age as a means to learn and understand her African heritage. Through discovery and training, she is skilled in Traditional West African, Afro-Caribbean folklore, Afrobeats, Dancehall and Soca. She is the founder of an educational and performance base brand called ZahraMoves. The educational component of the brand provides classes/workshops/lectures that educate people on the complexities of Black dances from the African Diaspora as well, teaching about West African and Caribbean cultures through movement. The performance component of the brand produces a collection of video projected and curated showcases to provide opportunities for emerging artists of color. Zahra is dedicated to disseminating knowledge about the vast beauty and history of Afro-Diasporic dance. Whether through seminars, podcast discussions, or movement workshops, her aim is to create a holistic view of the different facets of African dance. She is also the administrative assistant for dance Immersion which is a black-led non-profit organization that promotes, produces and supports Black dances and dancers from the African Diaspora.
About Thomas Talawa Prestø:
Thomas Talawa Prestø is the artistic director of Tabanka Dance Ensemble, Northern Europe's largest full time black dance company. He is also the founder of the Talawa Technique one of few fully codified africana dance techniques focusing on movement practices of Africa and the African diaspora.
Thomas
 Talawa is in the last lap of his Ph.D research with a research that looks particularly at what he calls "dancing in the pressure cooker" which looks at how African heritage communities under pressure have developed dance practices for social change, resistance and survival.