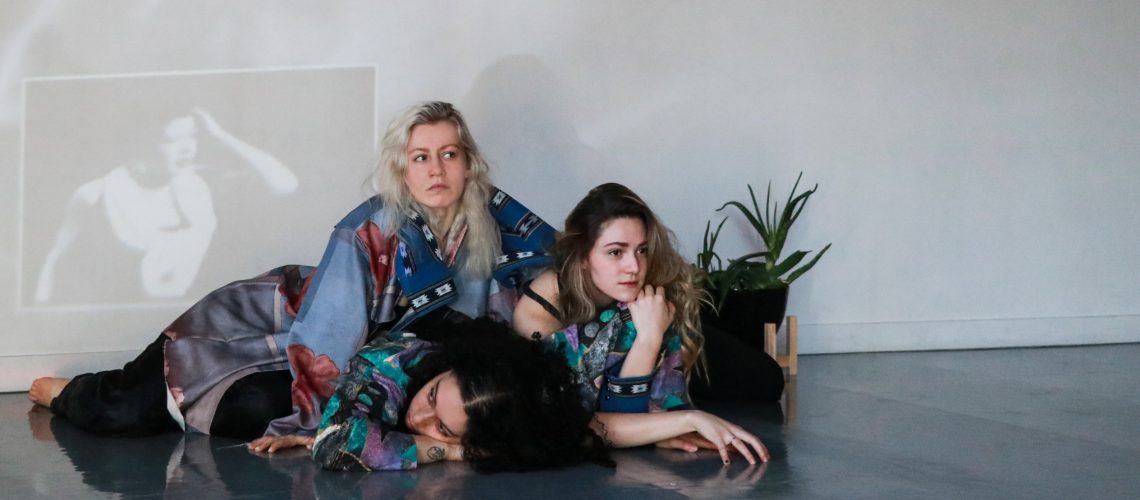 July 14, 2022
Live on the ground at the Toronto Fringe Festival, Turn Out Radio Correspondent Ellie Govinden sat down with Kylie Thompson to discuss the current run of "Femmillennial" running at the Festival from July 6-17, 2022.
A choreographic pastiche developed over the past three years – one of visceral intimacy, absurdity, virtuosity. Femmillennial is an examination of what it means, how it feels, what it looks like. Where we've been, where we're headed, who we came from. 3 women sink their teeth into an ultra physical dance theatre piece – A 3D collage of movement, media and music conceptualized and choreographed by Kylie Thompson. Visit the Toronto Fringe Festival for Tickets.
---
EG:  How does the performance speak to the reality of the modern millennial women?
KT: In the more recent phase of development of the piece, we did a lot of research in terms of watching women speak on camera.  Particularly notable women.  Iconic type women. And I was wondering about who are the icons of my generation.  Who are the icons of generations in the past? Who did my Mother, My Grandmother, look to for iconic inspiration? And who were the figure heads that they watched and were inspired by? So there was that sort of women in media component that was really intriguing to me in the later phase of development.
A lot of those gestures (In the performance) flipping the bird, smoking the cigarette were inspired by a singer named Nico from The Velvet Underground. We watched this one interview with her over and over again because the way that she spoke to the interviewer was so interesting. She was just smoking a cigarette the whole time. She was surrounded by her bandmates. She's not a classically beautiful woman, but she had this grit about her. And I just kind of tried to put myself in the shoes of someone in that era, which was in the mid 70s.  Seeing someone like that on TV, I see that as fairly normal. We see gritty women all over the place. But at the time, it was probably a lot more shocking to see on television.
I think we take for granted the availability of media in general. And just thinking about that headspace of being a woman in the 50's, 60's, 70's 80's and that turmoil of the possibility of what you could be, being put in front of you and being torn between having to be a certain way.
At one point, I remember experimenting with sitting down on a chair and what that feeling is, and the idea that sitting with your legs crossed versus (open) and this whole thing of acting lady like and what that constraint sort of felt like.  We just experimented with body language in that way. I just started putting together phrases of different gestures that a woman or anyone really might do. We were really experimenting with nuance.
I tried with this piece to exhibit that strength and aggressiveness, because it's not the most typical way that we see women represented. I just wanted to bring out all of the things that the modern femme persona could be, and put it all on display and try to show by example with all of that built up emotion from over the years, coming out. That is how I feel sometimes. Like, as a millennial.  Just like this place of having a kind of deep connection to my Grandmother, my Mother, and that nostalgia.
About Kylie Thompson Creative: Kylie Thompson Creative is lead by Kylie Thompson (she/her), an ally to the BIPOC and LGBTQ+ communities. A settler who considers herself a guest in Tkaronto, and on this planet. The cast and crew are a diverse group of dedicated Artists, all of whom have made and are making impacts in the Toronto Arts Community and beyond.
Instagram: @kyliethompsoncreative
About the Interviewer: Turn Out Radio Correspondent Ellie Govinden, is an interdisciplinary performance artist, burlesque performer, and performance researcher. Learn more about Govinden HERE.
Image credits:
Photography by Kylie Thompson
Costume design by Val Calam
Artists: (L-R) Kiera Breaugh, Dana Macdonald, Claire Whitaker