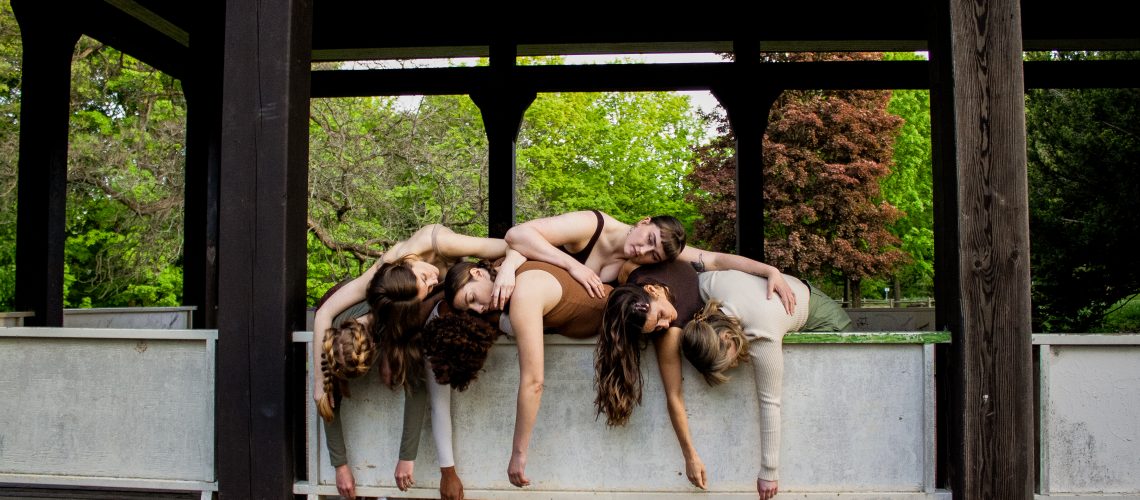 July 15, 2022
On site at the 2022 Toronto Fringe Festival, Turn Out Radio Correspondent Ellie Govinden spent time post performance with Lilly Giroux, Emily Rapley, and Paige Sayles of Rapley Dance Projects to explore the concept behind "Confronting Space."
The performance evaluates the concept of confinement. Both mentally and physically, while the dancers examine restrictions, small spaces, and rules while defying their relationships to boundaries. Visit the Toronto Fringe Festival for Tickets to the event which runs July 7-16, 2022.
---
EG:  We have had to conceptualize space differently and how we interact with one another as a result of the pandemic. How was the work impacted by COVID-19?
RDP:  We had gotten into the lottery in 2019, so this was an entirely different piece and different concept. We had a meeting when we wanted to go forth with the 2022 (Festival.) Something that came up for us was confinement, and a large part of influence which was a quote that says, 'You are only confined by the walls you build yourself.'  That speaks both negatively and positively because you need to build walls around you to protect yourself, but you also build walls around you that are unnecessary and hold you back. So we played a lot with confinement physically, emotionally, mentally, personally, with boundaries and people in the space.  Because it was so fresh from COVID-19, we were able to access that material from ourselves and the dancers.
EG: What has the work taught you about your own bodies and how they occupy space?
RDP:  For all of us, physical connection, especially being a dancer, is something that you really miss. It almost felt clunky to begin with when we reconnected with people. It did pose a very interesting question for us when we first started moving in the space. Do we want to have physical touch in this piece? Because we started rehearsals when everything was still up in the air about wearing masks.  So that just allowed us all to take a step back beyond a show or in a rehearsal. Also, to now have to be more aware of those boundaries in a way that maybe we weren't aware of before, really played into the piece of creating our own boundaries or feeling confined.  It's really interesting thinking about space in general, day to day. 
It was also really exciting.  Because of COVID-19, we feel like this piece can be a shared experience for everybody and that anyone can come in and take something away from it.  It's both relative to our lived experience over the last two and a half years, but also just every day.  We all share this.  We had to make a lot of boundaries, and we were faced with that, stepping back into the world.  Because our bodies don't work the way that they used to. We're not machines. We're not at the same work level as we used to be either. So, again, it was a lot of both boundaries in the rehearsal space, but also outside of it and navigating those spaces. That entirely influenced the piece as to what it is today.  
About the Interviewer: Turn Out Radio Correspondent Ellie Govinden, is an interdisciplinary performance artist, burlesque performer, and performance researcher. Learn more about Govinden HERE.
Image credits:
Photography by
Sidona Cole
Dancers: Emily Rapley, Raine Kearns, Lilly Giroux, Kylie Thompson, Paige Sayles, Victoria Gubiani, and Tyra Templesmith.